Leadership
---
Terri Lakowski is the CEO of Active Policy Solutions and an expert on youth sports policy in the United States. In her role at Active Policy Solutions, Terri has created and implemented strategic policy planning, lobbying, coalition building and education and outreach to renowned organizations working on issues relating to sports, youth development, education, health and fitness, Title IX and gender equity, disability rights as well as civil rights.
Terri has worked with her clients for over a decade to advance issues for youth among policymakers. Of particular note, Terri was instrumental in building the infrastructure of the Promoting Local and Youth (PLAY) Sports Coalition.  In just 4 short months, Terri worked with a handful of founding organizations to draft letters to Congress for youth sports funding relief in the wake of the COVID-19 pandemic and grew that small group to a mobilized network of over 4,000 youth sports leaders providing a prominent and respected voice on policy issues impacting the youth sports field and community.
Additionally, Terri spearheaded policy changes that made significant gains for students with disabilities in schools. This included the passage of a directive from the Department of Education in January of 2013 on the rights of students with disabilities in interscholastic sports and the Fitness and Athletic Equity Act for Students with Disabilities in Maryland, both of which at the federal and state level provided groundbreaking legislation and guidance that for–the first time–clarified the obligation of schools to provide sports and physical activity opportunities for students with disabilities.
Prior to founding Active Policy Solutions, Terri served as the Public Policy Director for the Women's Sports Foundation, where she was responsible for the operation of the Foundation's Public Policy Department, which provides education and advocacy to combat discrimination in sport. In this capacity she oversaw the execution of all of the Foundation's advocacy and public policy projects, participated in press conferences and Congressional lobbying activities to advocate on behalf of Title IX and other gender discrimination laws, and developed state and local education and advocacy initiatives to improve athletic opportunities for girls and individuals with disabilities in both school and community recreational athletic programs.
Terri earned her Juris Doctorate from American University-Washington College of Law, where she graduated Summa Cum Laude. She received her bachelor's degree from Washington University in St. Louis where, she graduated Summa Cum Laude with a degree in Social Thought and Analysis with a concentration in Women's Studies. While at Washington University, Terri participated on the women's varsity basketball team for three years. Since graduating, she has taught as an Adjunct Professor in the School of Continuing Studies: Sport Management Program at Georgetown University, Diversity & Social Responsibility in Sport and in the Department of Exercise Science at George Washington where she taught Sports Law.
Terri coached girls' basketball for many years at the youth and high school level. During her tenure as a high school coach at Walt Whitman High School in Bethesda, MD her team won the State Championship! Terri also served as a mentor with Capitol Partners for Education, a nonprofit that works with DC youth to support their transition from high school to college.  Terri now enjoys spending time with her young daughter, a rising youth athlete!
---
With strong expertise in the congressional funding and appropriations process, and convening congressional summits, Jason Marmon is the Chief Operating Officer for Active Policy Solutions.
Prior to joining Active Policy Solutions, Jason served as a policy analyst for the National Brownfields Coalition where he developed strategies to engage Members of Congress and state and local organizations; analyzed current and future policy; and assisted in outreach and messaging to build local grassroots support for federal brownfields programs.
Before joining the Coalition, Jason was a senior aid to Congressman Joe Sestak (PA-7), working on two congressional campaigns, a senate campaign, as well as in the Congressman's district and Washington offices. Among his many responsibilities were developing and overseeing district grant support and earmark efforts; managing various issue portfolios, including appropriations, environment, transportation, and childhood nutrition; advocating Congressman's position on proposed legislation and policy to other elected officials and government organizations; and drafting over a dozen pieces of legislation and amendments.
In 2010, Jason was recognized as one of the "Top 10 Most Effective Legislative and Campaign Staffers" by a prominent Pennsylvania newspaper. Jason earned his Juris Doctorate from Widener University School of law, where he graduated with honors. Jason received his bachelor's degree from Drexel University with a degree in Environmental Science, and his master's degree from George Washington University's Graduate School of Political Management, where he was selected as his graduating classes nominee for a prestigious Presidential Management Fellowship.
Jason is a local Boy Scout leader and member of a vintage baseball team.
---
Robin Foy joined Active Policy Solutions in February 2015 and currently serves as the Director of Operations. Prior to joining Active Policy Solutions, Robin worked as a substitute elementary school teacher for Harford County Public Schools in Maryland for seven years. She has also worked for Sun Microsystems, Stanton Chase International, Marketing Outcomes, and the Maryland General Assembly. Robin received her bachelor's degree from Franklin and Marshall College where she was a member of the women's volleyball team and Chi Omega. She was a Girl Scout leader for many years and now enjoys traveling with her grown family.
---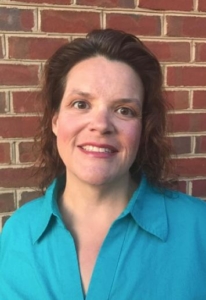 Maureen Siegmund

Director of External Relations
Maureen joined Active Policy Solutions as Director of External Relations in January 2015. Prior to joining the team, Maureen spent many years working in the fields of higher education, defense and insurance policy as well as in association management. She previously worked for the White House Office of Public Liaison, Office of Women's Initiatives and Outreach for the Clinton Administration. She also worked for the National Foundation for Women Legislators.
Maureen earned her BA in Political Science and Public Affairs from Elmira College and a certification in Campaign Management from the Women's Campaign School at Yale University. Outside of work, Maureen serves in regional leadership as a Hometown Mentor for the American Heritage Girls, a K-12 outdoor girls leadership development program as well as coordinator of her local troop. She also has served as Chair for the past 2 years on the Gifted Education Advisory Committee to her local School Board. She and her husband have 4 young children who they enjoy supporting on the basketball and volleyball courts as well as the soccer and football fields.
---