News
---
Active Policy Solutions In The News
Videos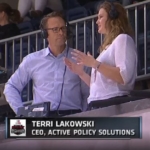 Link: Terri Lakowski shares the beauty of the sport of STUNT at the 2017 National Championships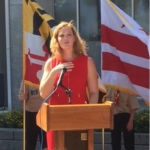 Link: Terri Lakowski delivers Welcoming Remarks at the 25th Anniversary of the ADA at the US Department of Education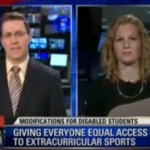 Link: Terri Lakowski Speaks on US DOE Ruling on Athletic Opportunities for Disabled Students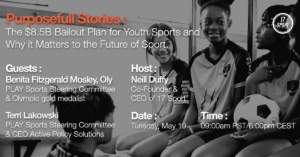 Link: Purposefull Stories: The $8.5B Bailout Plan for Youth Sports and Why It Matters to the Future of Sport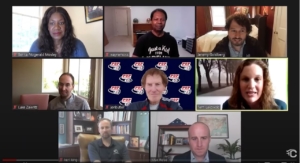 Link: PLAY Sports Coalition Call with Rep. Max Rose (D-NY)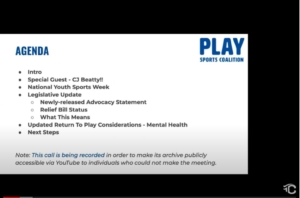 Link: PLAY Sports Coalition call with Special Guest-CJ Beatty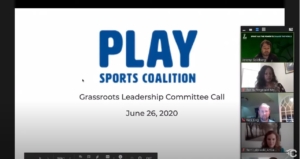 Link: PLAY Sports Coalition Grassroots Leadership Committee Call
---
Audio
Terri Lakowski and Olympic gold medalist, Benita Fitzgerald Mosley discuss Play Sports Coalition's $8.5 billion dollar youth sports relief fund proposal.
Active Policy Solutions CEO, Terri Lakowski, speaks on the recent ruling by the Department of Education on school athletics for disabled students.
---
Youth Sports
400+ Youth Sports Leaders Join Forces To Form The PLAY Sports Coalition (4/21/2020)
The coalition strategy includes: supporting families playing and coaching again, recognizing the economic and psychological devastation of COVID-19 will impact how families invest time and resources in participation in sports; and a playbook for return to play, ensuring there are clear guidelines, protocols, training and professional development to support the return of youth sports that ensures safe and positive sports experiences.
Youth Sports Coalition Seeks $8.5 Billion in Assistance (4/22/2020)
The coalition is being led by a volunteer steering committee of representatives, including Wayne Moss (National Council of Youth Sports), Benita Fitzgerald Mosley (Laureus Sport for Good USA), Jon Butler (Pop Warner), Jeremy Goldberg (LeagueApps), Keri King (Triple Crown Sports) and Luke Zaientz (Reigning Champs). Active Policy Solutions, led by Terri Lakowski, will serve as a special advisor to the Coalition and its Steering Committee.
How likely is Congress to support a youth sports industry bailout? (4/23/2020)
"We've had really good conversations with both chambers and members of both parties," Lakowski said. "No one has told me this is crazy, you're out of line. There's an understanding that youth sports organizations are unique, and you can't do sports remotely. There's an appetite for solving this. The devil is in the details."
Congressional Caucus On Youth Sports Leads 'Member Sign-On' Letter In Support Of PLAY Sports Coalition (5/5/2020)
Also, in the past two weeks, the number of local and youth sports organizations signed on as members of the PLAY Sports Coalition has more than doubled,surpassing 1,000 community leaders representing millions of young athletes, working families, coaches and volunteers across the country—a true national advocacy movement under the campaign title, Unite 2 PLAY (#Unite2PLAY).  These two developments, the Member Sign-On Letter and the significant increase in Coalition membership, mark a strong commitment to the PLAY Sports mission to ensure that these institutions, particularly sports-based youth development programs serving at-risk youth from under-resourced communities, not only survive, but thrive coming out of this pandemic.
Recap: Purposefull Stories: The $8.5B Bailout Plan for Youth Sports and Why It Matters to the Future of Sport (5/21/2020)
On this past Tuesday's Purposefull Stories webinar series, 17 Sport cofounder Neill Duffy spoke with Olympic gold medalist Benita Fitzgerald-Brown and Active Policy Solutions CEO Terri Lakowski. Both are prominently involved with the PLAY Sports, a coalition formed to provide support to youth sports during COVID19, and were perfectly positioned to talk about why the topic of youth sports is so relevant during the pandemic.
Coalition seeks federal aid due to COVID-19 (5/24/2020)
"The momentum keeps growing," said Terri Lakowski, the CEO of Active Policy Solutions, a lobbying firm that lists sports, health and youth development among its specialties. "There's just this huge community out there of youth sports providers who are hurting and want to work together for a solution."
Youth coalition seeks federal aid to keep programs going (5/28/2020)
"Especially right now with everything kids are dealing with and the scariness of the world, having the outlet of sports and the mentors and leaders that coaching provides is even more critical now than ever," Lakowski said. "And so we need to ensure that the infrastructure of youth sports and youth sports organizations can survive so that kids have the outlet that sports provide."
Disability
U.S. Department of Education Celebrates 25th Anniversary of the Americans with Disabilities Act (7/24/2015)
Following the panel discussions, the outdoor ceremony begins with Duncan providing the keynote address, followed by remarks from Active Policy Solutions Chief Executive Officer Terri Lakowski.
Rutgers to develop sports program for disabled students (1/17/2019)
Terri Lakowski, an attorney in Washington D.C. specializing in gender and disability rights issues in school sports, praised Rutgers "for taking a step in right direction" upholding the Americans with Disabilities Act that was enacted 25 years ago.
"There's no reason why any school should not make reasonable accommodations. There is no justification for discrimination," said Lakowski, who is the CEO of Active Policy Solutions, a consulting firm that advises government and advocacy groups on how to approach sports, health, wellness, youth development, and civil rights policies.
Education Dept. Orders Sports Access for Disabled (1/25/2013)
"This is a landmark moment for students with disabilities," Terri Lakowski, chief executive of Active Policy Solutions, a Washington-based advocacy group, said. "It will do for kids with disabilities what Title IX did for women. This level of clarity has been missing for years."
New Guidance Will Enhance Sports Opportunitites for Students with Disabilities (2/7/2013)
"OCR's guidance is a landmark moment for individuals with disabilities, as it sends a loud message to educational institutions that students with disabilities must be provided opportunities for physical activity and sports equal to those afforded to students without disabilities," said Terri Lakowski, policy chair of the Inclusive Fitness Coalition and nationally recognized sports policy advocate.  Lakowski, who has been a champion of equal physical activity and sports opportunities for women and girls under Title IX as well as students with disabilities for over ten years, added, "We applaud OCR for its leadership and action, which we hope will pave the way for students with disabilities in sports the same way that Title IX has done for women."
U.S. Department of Education issues 'landmark' directive for disabled student athletes (1/25/2013)
"It's a landmark moment for students with disabilities," said Terri Lakowski, policy chair of the Inclusive Fitness Coalition, a group of 200 organizations that advocates for disability rights.
"This is a game changer. I firmly believe this will do for students with disabilities what Title IX has done for women and girls. This gives very clear guidance of what equal opportunity for students with disabilities looks like."
Leaders Urge Colleges to Expand Sports Programs for Students With Disabilities (4/16/2013)
"What it requires is some thought and some consideration," says Terri Lakowski, CEO of Active Policy Solutions, a government affairs firm specializing in policies for organizations focusing on youth development, civil rights and sports. "Schools have to look at the individual circumstance of the athlete to see what is the nature of their disability; what is the type of accommodation that they're requesting. From a cost standpoint, that's relatively low and just a matter of creative thinking."
SportsLetter Interview: Terri Lakowski on Access to Sports for Kids with Disabilities (6/3/2013)
While it is too early to measure the long-term impact of the "Dear Colleague" letter, its message represents a sea change in attitude, according to Washington, D.C.-based attorney Terri Lakowski. As CEO of Active Policy Solutions, which works with groups on myriad sports policy issues, including youth sports, Lakowski helped forge the campaign that led to the "Dear Colleague" letter. She is also policy chair of the Inclusive Fitness Coalition, which works to "expand opportunities for physical activity, exercise and athletics for individuals with disabilities." And she is on the Board of the American Association of Adapted Sports Programs, which "works in partnership with educational agencies in the U.S. to establish programs, policies and regulations in interscholastic adapted sports for students with physical disabilities to enhance educational outcomes."
Just Trying to Even the Field (9/12/13)
Terri orchestrated passage of the Fitness and Athletic Equity Act for Students with Disabilities in Maryland, groundbreaking legislation that for the first time clarified the obligation of schools to provide sports and physical activity opportunities for students with disabilities.
Title IX
Rio Showed Us Where Title IX Has Succeeded—But Equality in Sports Still Has Far to Go (8/9/2016)
"I think the overarching theme of where we are with Title IX isn't just improvement in terms of access and opportunities, it's what happens once they're in the doors," said Terri Lakowski, former public policy director at the Women's Sports Foundation and now CEO of the strategic advisory group Active Policy Solutions.
Q's & A's with Leading Sports Reformers: Terri Lakowski (4/29/2014)
Terri Lakowski was an outstanding high school athlete who grew increasingly frustrated with the gender inequities she encountered in athletics.
"My teammates and I were tired of feeling like second-class citizens to the boys," says Lakowski.
That frustration was the impetus for Lakowski studying Title IX while playing basketball and earning her bachelor's degree at Washington University in St. Louis. Technically, her degree was in Social Thought and Analysis, with a concentration in Women's Studies, but she was focused on fully understanding Title IX and fighting against discrimination in the world of sports.