AHEAD
---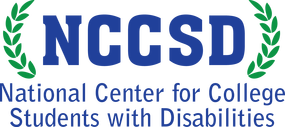 AHEAD is the leading professional membership association for individuals committed to equity for persons with disabilities in higher education.  AHEAD's membership includes disability resource professionals, student affairs personnel, ADA coordinators, diversity officers, AT/IT staff, faculty and other instructional personnel, and colleagues who are invested in creating welcoming higher education experiences for disabled individuals.  AHEAD boasts a membership of over 4,000, representing all 50 states and over 10 countries.  Additionally, AHEAD is the home base for the National Center for College Students with Disabilities (NCCSD), a federally-funded national center in the U.S. for college and graduate students with any type of disability, chronic health condition, or mental or emotional illness.  Active Policy Solutions provides government affairs and advocacy support to the Association with an additional goal of preserving funding for the NCCSD. Examples of our work includes:
Completed a government affairs strategic plan.
Created the AHEAD Policy Platform that serves as the platform for AHEAD's voice among policy makers.
Initiated contact with over 200 legislators in Washington, DC, targeting past supporters, members of the relevant committees, sponsors and advocates of related legislation, members of the Disabilities Caucus, and AHEAD's local representatives.
Established, at the policy level, connections with several prominent organizations such as the National Federation of the Blind (NFB), National Center for Learning Disabilities (NCLD), and Association of University Centers on Disabilities (AUCD).
Helped advance the reauthorization of the National Center for College Students with Disabilities (NCCSD) by helping garner needed support to introduce the bill including the reauthorization of the RISE Act, in the House and Senate, and helping secure the inclusion of the RISE Act into the House Education and Labor Committee's passed Higher Education Act (HEA) reauthorization bill.
Fostered a channel of communications and greater cooperation with the U.S. Department of Education's Office for Civil Rights.
Made Congress aware of the impending closure of the NCCSD and then secured $500,000 in the FY2020 budget for the NCCSD.